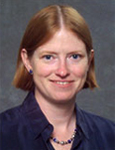 Kathleen Clark, John S. Lehman Research Professor for 2012-2013, is a leading expert on ethics standards for government contractors, current and former government officials, and government lawyers. Her extensive academic work on government ethics and corruption has been cited in hundreds of books and articles, and her scholarship has been excerpted in casebooks. She has led ethics workshops on six continents and conducted in-person and web-based ethics training for federal, state and local agencies.
Clark recently served as Special Counsel to the Attorney General of the District of Columbia; wrote an Ethics Manual for the District's 32,000 employees; and provided advice on ethics, open government and campaign finance laws. She is the Associate Reporter for the American Law Institute's Principles of Government Ethics, drafting a treatise on anti-corruption standards. The Administrative Conference of the United States (ACUS) commissioned Clark to investigate how government ethics standards are applied to contractor personnel, and her report became the basis for ACUS's recommendation for the adoption of such standards.
In 2011, the Federal Acquisition Regulatory (FAR) Council issued a regulation imposing such standards on some contractor personnel. Clark teaches courses on government and legal ethics, the law of whistleblowing and national security law. She co-authored a Washington Post op-ed about the Justice Department torture memo, and later expanded that analysis into Congressional testimony and a law review article. She has written about government lawyers who have blown the whistle on perceived misconduct and Congressional lawyers involved in intelligence oversight. She created a course on government and political ethics for the law school's Congressional & Administrative Law Program in Washington, D.C., and taught that course for 13 years. She also created another course, "The Law of Whistleblowing in Comparative Perspective," and taught that course at Utrecht University. Clark has taught at the University of Michigan and Cornell law schools, and was a 2010-11 Israel Treiman Faculty Fellow at Washington University in St. Louis. She graduated cum laude with a B.A. in Physics and Philosophy from Yale College, studied Russian in the Soviet Union, and studied Spanish in Guatemala. After graduating from Yale Law School, Clark clerked for Judge Harold H. Greene, U.S. District Court for the District of Columbia, and served as counsel to the U.S. Senate Judiciary Committee, where she drafted health care fraud legislation and worked on issues of white-collar crime.