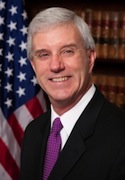 Jim McPherson is the Executive Director of the National Association of Attorney's General (NAAG), one of the oldest legal associations in the country, and Chair of the ABA Standing Committee on Law and National Security. Founded in 1907, NAAG is dedicated to helping the Attorneys General and their staffs fulfill the responsibilities of their offices and assisting in the delivery of outstanding legal services to the people of their states and territories.
Prior to joining NAAG, Mr. McPherson served as the General Counsel for the Department of Defense Counterintelligence Field Activity where he was responsible for providing legal advice and assistance in the areas of counterintelligence operational and policy matters, intelligence oversight, and a full range of administrative law matters.
In 2006, Mr. McPherson completed a distinguished career in the United States Navy retiring as a two-star Rear Admiral. Highlights of his career include assignments as a trial attorney, senior prosecutor, senior defense attorney, and commanding officer tat Naval Legal Service and Trial Service Offices; staff judge advocate assignments in the United States, overseas, and afloat; and legal counsel to the Vice Chief and Chief of Naval Operations. Mr. McPherson's first flag assignment was as the Deputy Judge Advocate General and Commander, Naval Legal Service Command.
In 2004, he was appointed by the President and confirmed by the U.S. Senate as the U.S. Navy's 39th Judge Advocate General – an appointment he held until his retirement.
Mr. McPherson was born and raised in Southern California and graduated from San Diego State University with a degree in Public Administration. He obtained his Juris Doctor degree from the University of San Diego, School of Law, and was awarded a Master of Laws degree in Military Law from The Judge Advocate General's School, Charlottesville, VA.
During his military career, Mr. McPherson received many personal awards and decorations including the Distinguished Service Medal, the Legion of Merit (two awards), and the Meritorious Service Medal (four awards). Mr. McPherson is a member of the bars of the U.S. Supreme Court, U.S. Court of Appeals for the Armed Forces, and California. He serves as the Chair of the American Bar Association Standing Committee on Law and National Security and is a member of the Department of Defense Legal Policy Board. He resides in Springfield, Virginia with his wife Jennifer.