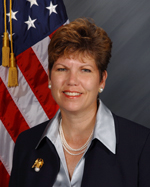 Cynthia R. Ryan joined the National Geospatial-Intelligence Agency (NGA) as General Counsel in January 2006. As General Counsel, she is the legal advisor to the NGA Director and provides advice on all legal issues in the agency's conduct of its worldwide mission, including geospatial intelligence, homeland security, imagery, and geospatial information. She also serves as the NGA Designated Agency Ethics Official and the NGA Intelligence Oversight Program Manager.
 Previously, Ms. Ryan was the Chief Counsel of the Drug Enforcement Administration (DEA) from 1996 through 2004, and Special Counsel from December 2004 to 2006. As the Chief Counsel, she was responsible for managing all the legal issues confronting the DEA worldwide and providing training to all DEA employees. In recognition of her contributions to DEA, Ms. Ryan received several performance awards including the Presidential Rank Award, Distinguished Executive (2000).
 She joined the DEA in May 1988, as a staff attorney in the Criminal Law Section, where she applied her criminal law experience as a prosecutor to the DEA operations, both domestic and foreign. Her tenacity and expertise facilitated the successful appeal process through the U.S. Supreme Court of U.S. v. Verdugo-Urguidez and U.S. v. Alvarez Machain. In 1991, to meet the increased counterdrug activites of the Department of Defense and Intelligence Community, she was instrumental in establishing the DEA International Law Section and served as its first chief. During her tenure, she participated in several Intelligence Community and law enforcement working groups to enhance intelligence sharing and operations among the law enforcement, intelligence, and defense communities.
 Before joining DEA, Ms. Ryan was a Trial Attorney in the Criminal Division of the U.S. Department of Justice. As Staff Counsel on the U.S. Senate Permanent Subcommittee of Investigations, Ms. Ryan conducted anti-drug and organized crime investigations, prepared hearings, testified in hearings, and drafted legislation. Ms. Ryan began her legal career as a Deputy Attorney General for the State of Delaware. During her six-year tenure, she successfully prosecuted hundreds of felony cases.
 Ms. Ryan is a graduate of the Harvard University Kennedy School of Government Senior Fellows Executive Program (2002), NGA Leading Culture By Design (2006), the Intelligence Fellows Program (2006), the Intelligence Community Senior Leadership Program (2008), and the Northwestern University Kellogg School of Management IC Executive Leader Program (EXCEL) (2009).
For her outstanding career achievements, Ms. Ryan was presented awards from her alma maters, the Widener University School of Law and the University of Delaware. She is a member of the American Bar Association Law and National Security Advisory Committee, the Delaware Bar, and the U.S. Supreme Court Bar.